In-venue functionality
ReCap is available in over 200 university teaching rooms. It captures the presenters voice and digital content from devices connected to the audio-visual system. All recordings in teaching rooms are scheduled to start and stop automatically however there is some in-venue control available via the teaching PC.
What is recorded?
When ReCap is used in a teaching room the following is captured:-
Digital content from devices connected to the AV system (e.g. teaching PC, visualiser, laptop).
The presenters voice, via the boundary microphone, which is situated at the lectern.
Please note that no video camera is present so the face of the presenter and any use of traditional writing surfaces (e.g. whiteboards, glassboards or chalkboards) or traditional overhead projectors (OHPs) will not be captured.
Recording timings
ReCap recordings will start 5 minutes after the scheduled start time and will stop recording at the scheduled end time; this is to enable back-to-back ReCap recordings to take place.
For example, a lecture timetabled between 10.00 and 11.00 will automatically start recording at 10.05 and stop at 11.00.
Recordings can be started earlier, stopped manually or extended if required by using the in-venue controls
In-venue controls
ReCap includes functionality to start recordings early, pause and stop recordings using either keyboard shortcuts or the Windows system tray controls on the teaching PC. You can also extend a recording in increments of 5 minutes.
Keyboard shortcuts
You can manage your ReCap recording by using the following keyboard shortcut controls on the teaching PC:-
F8 - allows you to start your booked recording early
F9 - allows you to pause and resume your current recording
F10 - allows you to stop your current recording
Note that if you choose to stop a session then it cannot be re-started
---
System tray controls
By right clicking on the Panopto icon in the teaching PC Windows System Tray (see image below) you can also manage your recording as you would using the shortcut keys. You can also monitor the current status of your recording:-

---
Extending a recording
If you wish to extend a recording you can do this in increments of 5 minutes by clicking on the Panopto icon in the computer's system tray (the bottom right of the screen) and selecting "Extend". Please be aware that this will NOT extend your room booking and therefore you should not extend your recording past the time you have the room booked until.
Microphone
In the majority of ReCap enabled venes a digital USB boundary microphone (shown below) is installed and will record the presenter's voice. This microphone is independent of the Audio Visual system therefore only records audio and doesn't amplify via the speaker system.
The microphone will automatically record any scheduled Recap sessions therefore doesn't need to be switched on or off. Please note that a red light on the microphone only shows that the microphone has power and does not indicate that a recording is taking place.
Recording status is shown via the recording status light and the icon in the Windows system tray. ‌
Please do not attempt to unplug or move the ReCap microphone as this will stop any ReCap recordings from happening and could affect subsequesnt users and students who are reliant on the ReCap service.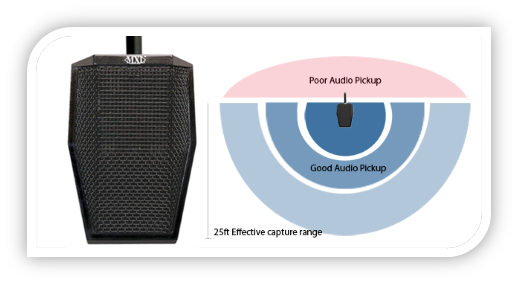 Recording status light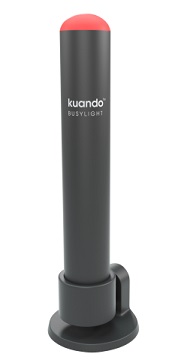 Most ReCap enabled venues have a recording status light installed which will how the current status of your scheduled ReCap recording. The light will:-
Illuminate red when a recording starts
Flash yellow if the recording is paused
You can also check the status of your recording in the system tray on the teaching PC.
Top