Aspartic acid
From The School of Biomedical Sciences Wiki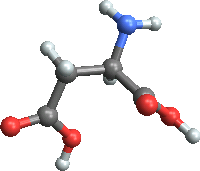 Aspartic acid is one of the 20
amino acids
that make up proteins. It is also known commonly as
aspartate
and has the single letter amino acid code D as well as the
three letter code
Asp. It has a chemical formula of NH
3
CHCOOHCH
2
COO
-[1]
. The singly bonded
O
 on the last
carbon
atom
is what gives aspartate it's negative charge. Aspartic acid is very soluble in
water
due to its
polar
properties
[2]
.

Aspartate is formed, along with glutamate and alanine, by adding an amino acid to an alpha-ketoacid [3]. In the aspartic acid formation the amino group from glutamate is added to oxaloacetate to create aspartate and alpha-ketoglutarate. This reaction is driven by pyridoxal phoshate-dependent transaminases. Aspartate can also be used to create asparagine (another amino acid). It is a transformation driven by the hydrolysis of ATP and is an amidation. In bacteria, the reaction is: [4]
Aspartate + NH4 + ATP → asparagine + AMP + PPi+ H+
In mammals the nitrogen used in the reactions comes from glutamine rather than ammonia, which has the advantage that the cell does not come in direct contact with ammmonia which can be toxic to the cells in high doses.
Aspartate is one of the two amino acids that triggers a taste response in the body. The receptors that are used to detect sweetness are also amino acid receptors and so the flavour is called Umami from the japanese word meaning deliciousness. However, the umami taste is on a different subunit of the receptor to the normal sweetness receptor which is T1T3. The additional subunit is the T1R1 [5].

References: