Agonist
From The School of Biomedical Sciences Wiki
(Difference between revisions)
 

(23 intermediate revisions by 3 users not shown)
Line 1:
Line 1:
−

An agonist is a ligand ([[Molecule|molecules]] that bind other molecules) that can be a drug or an endogenous molecule that bind to a receptor and elicit a cellular response, usually a [[signalling|signalling ]]pathway. An example of an endogenous molecule that would be an agonist could be a [[Neurotransmitter|neurotransmitter]] or a [[Hormone|hormone]], such as [[Estradiol|estradiol]] <ref>Berg et al., (2006) Biochemistry, 6th edition, New York, Pg 910</ref>&nbsp;.  

+

An agonist is a [[|]] to a [[|]] of [[|]] a [[|]] <ref>. , , , , </ref>.

 
 
−

Another example of an agonist is [[Nicotine|nicotine]]. Nicotine is a natural compound and is the chemical that is found in tobacco. Nicotine acts as an [[Antagonist|antagonist]] by binding to the same receptor as the main excitatory neurotransmitter [[Acetylcholine|acetylcholine]] and mimics the action of this [[Neurotransmitter|neurotransmitter]], therefore eliciting a cellular response <ref>Silverthorn et al., (2009) Human Physiology: An Integrated Approach, 5th Edition, San Francisco, Pg 41</ref>.

+

[[.|||]]  

 
 
−

Partial agonist is a compound that binds to a receptor producing an incomplete response, therefore it is&nbsp;considered to be less [[Potent|potent]].  

+

receptor an , [[|]].

 
 
−

The opposite of an agonist is an [[Antagonist|antagonist]].&nbsp;  

+

of [[|]] . &nbsp;

 
 
−

<span style="font-size: 17.529600143432617px; font-weight: bold;">References</span>

+

.  

 
 
−

<references /><br>

+
 
+

 

 
+
 
+

 

 
+
 
+

 

 
+
 
+

 

 
+
 
+

 

 
+
 
+

 

 
+
 
+

 

 
+

<references />  

 
+

 

 
+
 
+

 

 
+

<br>  

 
+

 

 
+
 
+

 

 
+
 
+

 

 
+
---
Latest revision as of 16:56, 24 October 2017
An agonist is a ligand capable of binding to a receptor as a result of it's affinity to the given molecule, and causing a conformational change which stabilises the receptor in an activated state[1]. The affinity of the ligand to the receptor is determined through molecular forces such as (in order of least to greatest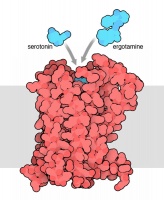 strength) Vaan Der Vaals forces, ionic bonds, hydrogen bonds and covalent bonds. The presence of the receptor in an activated conformation allows for (mainly) cytoplasmic protein interaction and transmission of the signal into the cell, and an associated response e.g. increased gene expression[2]. 
In terms of administration, agonists can be
exogenous
or
endogenous
molecules. The most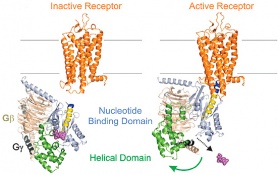 common exogenous agonists that enter our body are actually unwanted, in contrast to desired administration of exogenous agonists e.g. medicines like morphine. Unwanted exogenous agonists can include chemicals produced in the workplace, food additives, gaseous chemicals produced through pollution, second-hand smoke
[3]
.
Desired administration of exogenous agonists has many uses. Most salient amongst these are pleasure (e.g. from ethanol), therapeutic effects (e.g. from aspirin) or religious experiences (e.g. entheogens).
Endogenous agonists are molecules, typically synthesized or modified using metabolic pathways, present without prior administration. This does not mean however, that their quantity in the body is not alterable. For example, different levels of precursors to the final, endogenous agonists affect the level of the ligand[4]. L-Dopa, a principal treatment for Parkinson's disease, is used in this way as it increases the levels of endogenous dopamine in the substantia nigra of affected patients. The level of gene expression is also important as it determines the quantity of enzymes capable of creating the final endogenous agonist.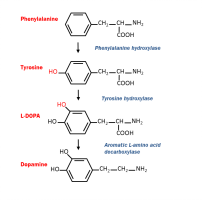 A greater amount of enzyme will increase the speed of synthesis of the final agonist, and thus increase it's effects. This provides insight into disease states, or predispositions to disease. Forexample, a lower expression of enzyme genes necessary to synthesize serotonin and noradrenaline can predispose people to lower mood states, and thus increase the likelihood of depression[5].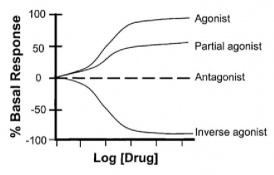 Agonists are not only classified by their affinity to a given molecule (see first paragraph), but also by their efficacy. Efficacy is described as the ability of the agonists to stabilise the receptor into an activated state through a conformational change[6]. A more full agonists will have the greatest efficacy possible and thus stabilise the receptor such that it remains active throughout the entirety of it's binding. A partial agonist will stabilise the receptor such that it remains active through only a portion of its bound time. Comparatively, the full agonist will produce the greatest measurable response (e.g. cause complete myocyte contraction) while partial agonists produce a fraction of this (e.g. partial myocyte contraction)[7]. A graph is shown to the left to illustrate this point. The basal response demonstrates the constitutive activity of the receptor in the presence of non-stimulated endogenous ligand levels. 
References
Image references:
1. David Goodsell, Serotonin Receptor, Unknown, 2013. URL: http://pdb101.rcsb.org/motm/164

2. Frontiers, Stabilisation of G protein coupled receptors, Unknown, 2015. URL: https://www.frontiersin.org/files/Articles/133481/fphar-06-00082-HTML/image_m/fphar-06-00082-g005.jpg
3. Amaia Sangrador and Alex Mitchell, Don't Blame The Cat, Unknown, 2014. URL: https://proteinswebteam.github.io/interpro-blog/2014/11/06/Don-t-blame-the-cat-the-toxoplasmosis-effect/
4. Pharmakon, Dose-Response Curve, Unknown, Unknown. URL: https://pharmakondotme.wordpress.com/introduction/