Alanine
From The School of Biomedical Sciences Wiki
Alanine is a hydrophobic amino acid. 
Three letter code: Ala
One letter code: A
It is a non-polar amino acid. It has a side chain of  -CH3 making it the second simplest amino acid (Gylcine is the simplest amino acid with a single hydrogen atom as its side chain.) It has four codons: GCA, GCC, GCG and GCU[1][2].

See single letter amino acid codes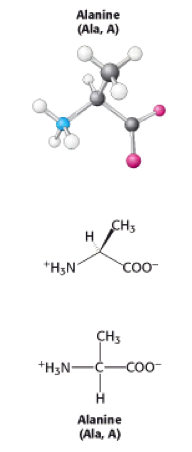 References
↑ Berg J., Tymoczko J. and Stryer L (2012) Biochemistry, seventh edition, Basinstoke: W.H.Freeman and Company.
↑ Berg, J. M., Tymoczko, J. L., & Stryer, L. (2002). Biochemistry (5th ed.). New York: W.H. Freeman.