Autosomal
From The School of Biomedical Sciences Wiki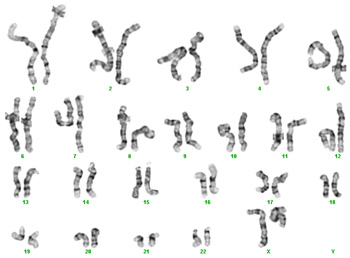 The term autosomal is used to describe certain
chromosomes
within a
karyotype
that code for the production of various
proteins
. Autosomal chromosomes appear in pairs whereby each chromosome is genetically identical to its paired chromosome. Any chromosomes in a karyotype that are not autosomal are described as allosomal.
Allosomal chromosomes
are sex chromosomes
which are responsible for sex determination[1].
In humans there are 23 pairs of chromosomes, 22 of which are autosomal. The other pair are allosomal and determine sex (X and Y chromosomes).
References
↑ Tutorvista. Autosomes and allosomes.[cited 06/12/17]. Available from http://www.tutorvista.com/content/biology/biology-iii/chromosomes/autosomes-and-allosomes.php