Beta-sheet
From The School of Biomedical Sciences Wiki
 A Beta sheet is a protein structure which was developed by Linus Pauling and Robert Corey in 1951. The name Beta was chosen, as it was their second proposed structure (the alpha helix being the first) [1]. It is important for protein structure, such as fatty-acid binding proteins, which are required for lipid metabolism. These proteins are almost made completely from Beta sheets [2].
Structure
The Beta pleated sheet's structure is very different to the structure of the alpha helix; a Beta sheet is made up of two or more polypeptide chains called Beta strands. These polypeptide strands are almost completely extended, rather than coiled tightly as in the alpha helix.
The side chains on each of the amino acids that form the protein point in opposite directions. A sheet is formed by linking two or more Beta strands adjacent to each other by hydrogen bonds. Adjacent chains can run in either opposite directions, forming an antiparallel Beta sheet, or in the same direction, forming a parallel Beta sheet [3].
Anti-Parallel Arrangement
In this arrangement, the NH group and the CO group of each amino acid is hydrogen bonded to the CO group and NH group respectively on the the adjacent chain, therefore stabilising the structure [4].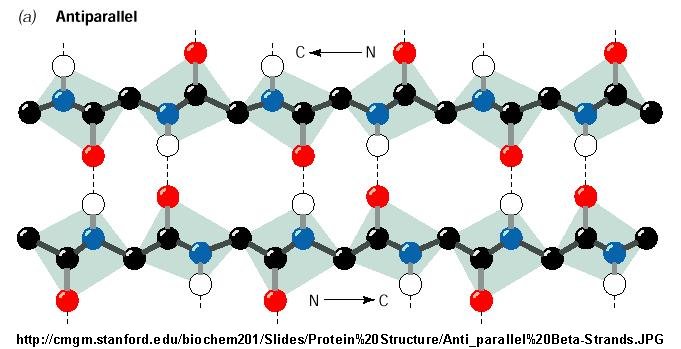 (Structural arrangement in anti-parallel Beta sheets)[5]
Parallel Arrangement
This arrangement is more complicated, due to the hydrogen bonding; similarly to the anti-parallel arrangement, the NH group os bonded to the CO group of an amino acid on the adjacent chain. However, the CO group is bonded to the NH group on the adjacent amino acid two residues further along in the chain [6].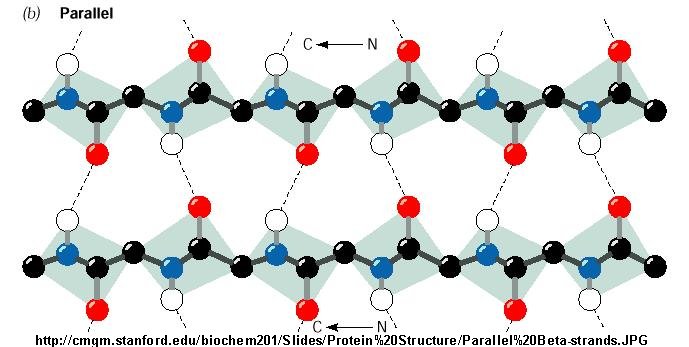 (Structural arrangement in parallel Beta sheets)[7]
Formation
Beta sheets are formed when usually four or five (but sometimes up to 10) strands come together by hydrogen bonding. The Beta sheets can be completely anti-parallel, completely parallel, or a mixture of the two [8].

References