Cervical canal
From The School of Biomedical Sciences Wiki
(Difference between revisions)
 

Line 1:
Line 1:
−

&nbsp;[[Image:Screenshot 2018-12-10 at 11.28.12.png]]<ref>Check S. [Internet]. Structure &amp;amp;amp;amp; Function. [cited 2018Dec10]. Available from: https://www.haad.ae/simplycheck/tabid/71/default.aspx</ref>

+

[[Image:Screenshot 2018-12-10 at 11.28.12.png...]  

 
 
−

&nbsp;The uterus is made up of a body and a [[Cervix|cervix]]. The cervix communicates superiorly with the uterine cavity through the internal orifice (known as internal os an communicates inferiorly with the [[Vagina|vagina]] at the external orifice (known as the external os).<ref>Cervical Canal • Reproductive • AnatomyZone [Internet]. AnatomyZone. 2018 [cited 10 December 2018]. Available from: http://anatomyzone.com/anatomy-feed/cervical-canal/</ref>  

+

The uterus is made up of a body and a [[Cervix|cervix]]. The cervix communicates superiorly with the uterine cavity through the internal orifice (known as internal communicates inferiorly with the [[Vagina|vagina]] at the external orifice (known as the external os)<ref>Cervical Canal • Reproductive • AnatomyZone [Internet]. AnatomyZone. 2018 [cited 10 December 2018]. Available from: http://anatomyzone.com/anatomy-feed/cervical-canal/</ref>

 
 
−

The cervical canal is the narrow passage which runs through the cervix, which is what connects the vagine to the [[Uterus|uterus]].&nbsp;<span style="font-size: 13.28px;">It is the lower most part of the uterus and is consists of strong muscles.</span>

+

The cervical canal is the narrow passage which runs through the cervix, which is what connects the to the [[Uterus|uterus]]. It is the part of the uterus and is consists of strong muscles.  

 
 
−

The cervix directs the [[Sperm|sperm]] to the uterus during sexual intercourse, as well as allowing&nbsp;the flow of menstrual blood from the uterus into the [[Vagina|vagina]].&nbsp;

+

The cervix directs the [[Sperm|sperm]] to the uterus during sexual intercourse, as well as allowing the flow of menstrual blood from the uterus into the [[Vagina|vagina]].  

 
 
−

The opening of the cervical canal is usually narrow, however pressure from from the fetal head as well as [[Hormones|hormones]] found in the body can cause this opening to widen to about 4 inches. To allow the birth of a baby, the opening widens as well.<ref>Check S. [Internet]. Structure &amp;amp;amp;amp;amp; Function. [cited 2018Dec10]. Available from: https://www.haad.ae/simplycheck/tabid/71/default.aspx</ref>  

+

The opening of the cervical canal is usually narrow, howeverpressure from the fetal head as well as [[Hormones|hormones]] found in the body can cause this opening to widen to about 4 inches. To allow the birth of a baby, the opening widens as well<ref>Check S. [Internet]. Structure &amp;amp;amp;amp;amp; Function. [cited 2018Dec10]. Available from: https://www.haad.ae/simplycheck/tabid/71/default.aspx</ref>

 
 
−

<br>

+

=References  =

−

 

+
−

<br>

+
−

 

+
−

= '''References'''&nbsp; =

+
 
 
 

<references />

 

<references />
---
Latest revision as of 20:08, 10 December 2018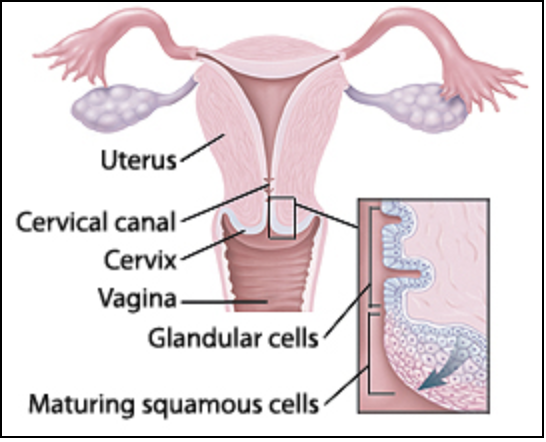 The uterus is made up of a body and a cervix. The cervix communicates superiorly with the uterine cavity through the internal orifice (known as internal as a communicates inferiorly with the vagina at the external orifice (known as the external os)[1][2].
The cervical canal is the narrow passage which runs through the cervix, which is what connects the vagina to the uterus. It is the lowermost part of the uterus and is consists of strong muscles.
The cervix directs the sperm to the uterus during sexual intercourse, as well as allowing the flow of menstrual blood from the uterus into the vagina.
The opening of the cervical canal is usually narrow, however, pressure from the fetal head as well as hormones found in the body can cause this opening to widen to about 4 inches. To allow the birth of a baby, the opening widens as well[3].
References
↑ Cervical Canal • Reproductive • AnatomyZone [Internet]. AnatomyZone. 2018 [cited 10 December 2018]. Available from: http://anatomyzone.com/anatomy-feed/cervical-canal/
↑ Check S. [Internet]. Structure & Function. [cited 2018Dec10]. Available from: https://www.haad.ae/simplycheck/tabid/71/default.aspx
↑ Check S. [Internet]. Structure & Function. [cited 2018Dec10]. Available from: https://www.haad.ae/simplycheck/tabid/71/default.aspx