Evolutionary history of humans
From The School of Biomedical Sciences Wiki
The evolutionary history of humans:
The evolutionary history of humans is the history of life on earth and how it has evolved since life first originated until the present day.
There are three main models that have been proposed to explain how Homo sapiens arose. All of the models incorporate the fact that Homo erectus was the first hominin to leave Africa and inhabit Eurasia [1].
1) The Multiregional model
The Multiregional Model posits that modern human (H. sapiens) populations arose independently from isolated populations of H. erectus.[2]
2) The Africa replacement model
The Out of Africa hypothesis posits that modern humans originated in Africa, members of this species moving into the rest of the old world displacing the descendants of H. erectus that they encountered.[3]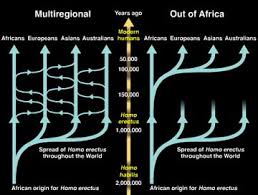 3) The Hybridization model
The Hybridization model proposes that H. sapiens evolved only once in Africa and, after dispersal out of Africa, hybridization took place between modern human and Archaic humans as their populations made contact [5].
How can we test these models?
We can compare the sequences of modern humans in different populations. Once the sequences are isolated, communities of small effective population size will rapidly accumulate differences by drift. These differences allow us to map relationships between populations and patterns of gene flow (interbreeding).
Neanderthals
Neanderthals are descendants of the original H. erectus populations who left Africa about 1 million years ago.

Did Neanderthals and modern humans interbreed?
Neanderthals lived in Europe between 300,000 and 30,000 years ago. The out of Africa hypothesis posits that modern humans displaced them when they reached Europe about 50,000 years ago, without any interbreeding. The last Neanderthal died out about 30,000 years ago.
To test whether Neanderthals are more closely related to some present day humans than others, SNPs (single nucleotide polymorphisms) were identified by comparing one randomly chosen sequence from each of two present-day humans (H1, H2) and asked if the Neanderthals matched the alleles of the two individuals equally often – if not then it can be concluded that one human contains more Neanderthal DNA than the other.
Individuals in Eurasia carry regions in their genome that are closely related to those in Neanderthals and distant from other present day humans. Some data suggests that between 1 and 4% of the genomes of people in Eurasia are derived from Neanderthals.
References