G-protein Coupled Receptor
From The School of Biomedical Sciences Wiki
(Difference between revisions)
m

 

(29 intermediate revisions by 12 users not shown)
Line 1:
Line 1:
−

The G-protein-coupled receptor (GPCR) is a [[Seven|seven]] [[Transmembrane|transmembrane]]&nbsp;spanning [[Receptor|receptor]]&nbsp;that interacts with [[Heterotrimeric G-proteins|G-protein]] in the process of [[Cell signalling|cell signalling]]. It constitutes along with [[Ion-channel-coupled receptor|ion-channel-coupled receptors]] and [[Enzyme-coupled Receptor|enzyme-coupled receptors]] a major class of cell surface-receptor<ref>Alberts, et al. Molecular Biology of the Cell. 5th ed. Garland Science. 2008</ref>.  

+

The G-protein-coupled receptor (GPCR) is a [[Seven|seven]] [[Transmembrane|transmembrane]] spanning [[Receptor|receptor]] that interacts with [[Heterotrimeric G-proteins|G-protein]] in the process of [[Cell signalling|cell signalling]]. along with [[Ion-channel-coupled receptor|ion-channel-coupled receptors]] and [[Enzyme-coupled Receptor|enzyme-coupled receptors]] a major class of cell surface-receptor<ref>Alberts, et al. Molecular Biology of the Cell. 5th ed. Garland Science. 2008</ref>.

 
 
−

= Classification<br> =

+

= Classification  =

 
 
−

Over 800 G-protein-coupled receptors have been identified (more than half of them being [[Olfactory receptor|olfactory receptors]]) and phylogenetic studies carried out<ref>Fredriksson R, Lagerström MC, Lundin LG, Schiöth HB. The G-protein-coupled receptors in the human genome form five main families. Phylogenetic analysis, paralogon groups, and fingerprints.Mol Pharmacol. 2003 Jun;63(6):1256-72.</ref>. From these studies the GPCRs can be classified in five main families:&nbsp;

+

Over 800 G-protein-coupled receptors have been identified (more than half of them being [[Olfactory receptor|olfactory receptors]]) and phylogenetic studies carried out<ref>Fredriksson R, Lagerström MC, Lundin LG, Schiöth HB. The G-protein-coupled receptors in the human genome form five main families. Phylogenetic analysis, paralogon groups, and fingerprints.Mol Pharmacol. 2003 Jun;63(6):1256-72.</ref>. From these studies the GPCRs can be classified in five main families:

 
 
−

*'''The rhodopsin receptor family''' of receptors structurally similar to [[Rhodopsin|rhodopsin]], contains the largest number of receptors, including all the olfactory ones. Other members of this family include the [[Adrenergic receptor|adrenergic receptors]], [[Muscarinic acetylcholine receptor|muscarinic acetylcholine receptors ]](mAChRs), [[Glycoprotein-hormone receptor|glycoprotein-hormone receptors]], [[Serotonin|serotonine receptors]] (except the ionotropic 5-HT<sub>3</sub> receptor), [[Prostaglandin|prostaglandin receptors]], [[Thrombin|thrombin receptor]], etc.<br>

+

*'''The glutamate receptor family '''includes the [[Glutamate|glutamate]] metabotropic receptors, and GABA<sub>B</sub> receptors.  

−

*'''The glutamate receptor family '''includes the [[Glutamate|glutamate]] metabotropic receptors, and GABA<sub>B</sub> receptors.<br>

+

*'''The secetrin receptor family''' with the receptor for the peptide hormone [[Secretine|secretine]] as a prototype, it also includes the receptor for [[Glucagon|glucagon]], [[Calcitonin|calcitonin]] and [[Parathyroid hormone|parathyroid hormone]].  

−

*'''The secetrin receptor family''' with the receptor for the peptide hormone [[Secretine|secretine]] as a prototype, it also includes the receptor for [[Glucagon|glucagon]], [[Calcitonin|calcitonin]] and [[Parathyroid hormone|parathyroid hormone]].<br>

+

*'''The adhesion receptor family''' characterized by the presence of motifs in the N-terminus that are likely to be related to cell adhesion.  

−

*'''The adhesion receptor family''' characterized by the presence of motifs in the N-terminus that are likely to be related to cell adhesion. <br>

+

*'''The Frizzled/Taste2 receptor family''' includes receptors important for development (frizzled branch) and the taste receptors (TAS2 branch.<>

−

*'''The Frizzled/Taste2 receptor family''' includes receptors important for development (frizzled branch) and the taste receptors (TAS2 branch).<br>

+
 
 
−

= References =

+

= =

 
 
−

<references /><br>

+

</><

 
+

 

 
+
 
+

 

 
+
 
+

 

 
+
 
+

 

 
+
 
+

 

 
+
 
+

 

 
+

>
---
Latest revision as of 18:33, 6 December 2018
The G-protein-coupled receptor (GPCR) is a seven transmembrane spanning receptor that interacts with a G-protein in the process of cell signalling. Also known as serpentine receptors, along with ion-channel-coupled receptors and enzyme-coupled receptors it constitutes a major class of cell surface-receptor[1]. GPCR's bind G-proteins to start a cascade of reactions to induce a response. The binding of a G-protein to its GPCR activates a target protein, usually an enzyme, which leads to a response via a second messenger molecule to switch proteins on/off[2]. 
Classification
Over 800 G-protein-coupled receptors have been identified (more than half of them being olfactory receptors) and phylogenetic studies carried out[3]. From these studies the GPCRs can be classified in five main families: *The rhodopsin receptor family of receptors structurally similar to rhodopsin, contains the largest number of receptors, including all the olfactory ones. Other members of this family include the adrenergic receptors, muscarinic acetylcholine receptors (mAChRs), glycoprotein-hormone receptors, serotonine receptors (except the ionotropic 5-HT3 receptor), prostaglandin receptors, thrombin receptor, etc.
The glutamate receptor family includes the glutamate metabotropic receptors, and GABAB receptors.
The secetrin receptor family with the receptor for the peptide hormone secretine as a prototype, it also includes the receptor for glucagon, calcitonin and parathyroid hormone.
The adhesion receptor family are characterized by the presence of motifs in the N-terminus that are likely to be related to cell adhesion.
The Frizzled/Taste2 receptor family includes receptors important for development (frizzled branch) and the taste receptors (TAS2 branch[4].
Structure
Along with the seven transmembrane core structure, the G Protein-Coupled Receptor often have large receptor domains in the N-terminus on the extracellular side of the plasma membrane. Binding of a signal molecule to this receptor domain (or indeed the extracellular part of the transmembrane domains) causes a conformational change in the transmembrane domain and intracellular C-terminus. This triggers the action of a G-protein which binds guanyl nucleotides[5]. G proteins are of two types- Monomeric and Trimeric G proteins respectively[6].
Extracellular signalling molecules that bind to Enzyme-linked receptors are converted by monomeric G-proteins.
Example of Monomeric G-protein: Ras
Extracellular signalling molecules that bind to G-protein linked receptors are converted by trimeric G-proteins. Trimeric G Proteins are made up of alpha, beta and gamma subunits[7]. Alpha subunits have innate GTPase activity and bind to GDP in their resting state[8]. They are attached to the receptor at resting state in contrast to monomeric G proteins[9]. The release of GDP from alpha subunit of trimeric G-protein for it to bind to GTP is driven by the G-protein linked receptor. When a signal molecule binds to the ligand-binding domain of the G-protein coupled receptor, it brings about a conformational change which allows the G-protein to bind to the G-protein binding domain via the alpha sub-unit. The alpha sub-unit, now activated, releases GDP and binds GTP and the target protein is activated, usually an amplifying enzyme such as adenylyl cyclase; ultimately leading to a response via a signalling cascade. This target protein can be activated, either by the binding of the alpha subunit or the binding of the beta-gamma complex, dependent on the cell signalling pathway. Yet, the release of GDP from monomeric G-proteins, Ras is made able by binding it to an adaptor protein, Grb2 and SOS complex (GEF-guanine nucleotide exchange factor). A further difference is that trimeric G-proteins can self GTP-hydrolyse whereas in monomeric G-proteins a GAP (GTPase Activating Protein) is required as it possesses weak intrinsic GTPase activity.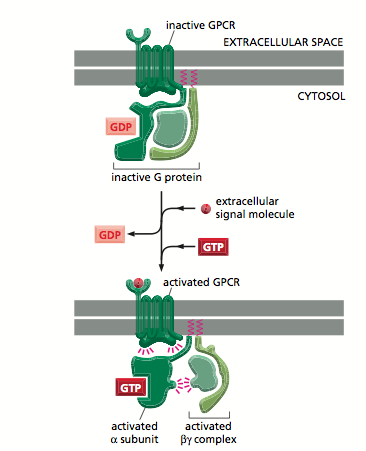 Figure 1: showing active and inactive G-protein[10]
References