GTP
From The School of Biomedical Sciences Wiki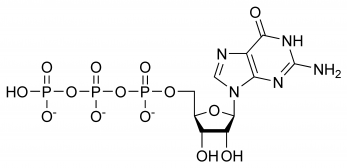 Guanosine triphosphate (GTP) is one of the
nucleotides
that make up an
RNA molecule
. It consists of a
ribose sugar
, which is attached to a
guanine
heterocyclic base on C1' of the sugar and a
triphosphate group
on C4' of the sugar. It is similar to
ATP
which is widely utilized in many cellular processes as a source of energy. Dephosphorylation of GTP also yields energy, but the use of GTP in this manner is more specific to certain
metabolic
pathways. A molecule of GTP is produced during the citric acid cycle, which can then be readily converted to ATP for a source of energy
[1]
.
GTP is used in protein synthesis. During initiation of translation, the GTP is associated with an initiation factor 2 (IF2) and is hydrolyzed upon the assembly of the initiation ribosomal complex. During elongation, GTP facilitates the binding of a new aminoacyl tRNA to the A site of a ribosome.
GTP is also an important factor in signal transduction pathways. Here, GTP can be associated with G-protein complexes and is used to regulate the activity of the protein. In cell signalling, GTP is often hydrolyzed to GDP which is then uptaken by the alpha subunit of a trimeric G protein complex.
GTP is also involved in the dynamic instability of microtubules in the cell. GTP can bind loosely to the beta-tubulin monomer of the tubulin dimer and GTP hydrolysis can occur. In the alpha-tubulin subunit, it binds strongly, so GTP hydrolysis cannot occur. This causes the beta-tubulin monomer to be bound to GDP as hydrolysis can occur, and causes depolymerisation. GTP-bound alpha-tubulin polymerises due to the lack of GTP hydrolysis[2].
GTP hydrolysis is important in nuclear transport, Ran GTPase is involved in this process[3].
References
↑ Jeremy M Berg, John L Tymoczko, Lubert Stryer. Biochemistry, 5th edition. New York: WH Freeman; 2002.page 476
↑ Bruce Alberts, Alexander Johnson, Julian Lewis, David Morgan, Martin Raff, Keith Roberts, Peter Walter. Molecular Biology of the Cell, 6th edition. Garland Science, Taylor and Francis Group, LLC. New York, 2008 page 926-927
↑ Bruce Alberts, Alexander Johnson, Julian Lewis, David Morgan, Martin Raff, Keith Roberts, Peter Walter. Molecular Biology of the Cell, 6th edition. Garland Science, Taylor and; Francis Group, LLC. New York, 2008 page 653