Glucose
From The School of Biomedical Sciences Wiki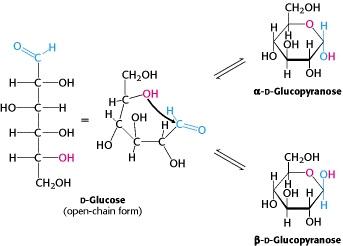 Glucose is a
monosaccharide
with the chemical formula of C
6
H
12
O
6
. It is involved in many biological processes including
glycolysis
.
Glycolysis
involves the conversion of
glucose
, to
pyruvate
. This process is fundamental to
respiration
. Glucose can form a
glycosidic bond
with another glucose to form a
disaccharide
called
maltose
through a condensation reaction. Glucose monomers can be joined by α-1,4-
glycosidic bond
to form a polysaccharide molecule known as
starch
.
In open chain glucose Carbon 1 (the carbonyl carbon) is not chirally active. However in the ring structure, it becomes asymmetric, allowing it to form two ring structures: α-D-glucopyranose and β-D-glucopyranose[1].
Image taken from: http://www.ncbi.nlm.nih.gov/books/NBK22547/[2]
The main family of transporters are known as the GLUT family with 5 known variants all with different properties and found in different tissues.
References:
↑ Berg J., Tymoczko J and Stryer L. (2012) Biochemistry, 7th edition, New York: WH Freeman. pg 333