Knockout mice
From The School of Biomedical Sciences Wiki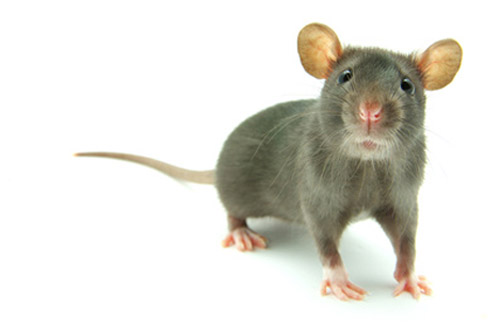 Knockout mice are genetically engineered mice where a particular gene is inactivated (knocked out) by replacing the gene of interest with a modified mutated version or by introducing an artificial piece of DNA that disrupts the gene's function [1].
There are 2 ways researchers produce knockout mice. Both methods require the use of ES cells (embryonic stem) due to their ability to differentiate into nearly any adult cell type. This feature ensures that if a gene is knocked out within an ES cell, its effects are universally observed in all tissues within the adult mouse. The 2 methods used are gene targeting, often referred to as homologous recombination or by process of gene trapping.
Homologous recombination swaps a portion of the gene of interest with an inactive artificial length of DNA which shares homology with most sections of the target gene, thus allowing it to recombine wit the incorporation of the inactive gene length.
Gene trapping also inserts a portion of DNA however it into any gene which disrupts the RNA splicing machinery and thus the gene cannot produce its specific protein, thus eliminating its function.
The preferred method and most widespread production of knockout mice is done by method of gene targeting.[2]

The steps of gene targeting in ES cells used to harvest knockout mice are as follows:
Firstly, ES cells are removed from a blastocyst during the earliest days of development due to their pluripotent capacity. Then a targetingvector is added to the cultivated ES cells. This artificially constructed target vector contains pieces of DNA with the same homology to the gene of interest, but also the artificially altered DNA fragment produced with the mutant (inactivated) gene. By ES cell transfection, the target vector recombines with the gene by homologous recombination. . The positive negative selection process enriches targeted ES cells producing a pure selection of mutant ES cells.
Then the mutant ES cells are injected into blastocysts where they combine with the inner cell mass from which the embryo develops. These are then injected into a surrogate mouse who produces offspring which are mosaics of the inactivated gene. Through breeding the mosaic generation with normal mice they shall produce normal or homozygous mutant mice where both alleles have a knocked out version of the gene, i.e. a knock out mouse [3]

What do knockout mice show?
The lack of the gene's expression alters the phenotype of the mouse in a certain way which helps researchers identify the role and function of the gene inactivated. They can compare normal mice to those with the inactivated gene mutation and discern any observable differences that occur. [4]
The naming of knockout mice is often associated with the non-functional gene mutation or associated with the phenotypical differences and behavioural patterns observed from the genes absence. [5]
The use of knockouts are widely used by scientists in the discovery of disease related genes within hereditary diseases. By disrupting particular genes they hope to understand the critical functioning and importance of that gene and how the disrupted function causes a particular genetic disease.
The development of gene targeting technology, essential in the creation of knockout mice, received a Nobel Prize in 2007, for the work it has contributed using animal models as a basis for discovering human disease. [6]This was awarded to M R Capecchi, M J Evans and O Smithies for their combined efforts.
Knockout mice have been used to determine the effects of the gene leptin in obesity. The gene is known to target cells with in the brain to suppress appetite. Knockout mice who lack a functional LEP gene grow particularly overweight. This phenotype is seen in small numbers of humans who have a mutation in the LEP gene. [7]
Knockout mice have been a valuable asset for modelling diseases, such as cancer, Alzhiemer's,

New types of knockout mice
Conditional knockout mice are a more advanced technique developed from the original gene targeting method in which modification of a gene acts at a given time and can be implemented into a particular cell type or tissue. This method has some advantages including its high specificity and particular chromosomal abnormalities can be shown in the mice. Spatial and temporal knockouts of genes can be observed which overcome the lethality of the traditional knockouts as other than particular selected genes the mouse is potentially wild type. [8] However the new technique varies in efficiency depending on the gene locus and Cre activity, it can only be done in Flox and Cre transgenic mice and it is a much more time consuming, expensive technique. [9]
Advantages
Main advantages of using knockout mice is that they are easy to grow.
ES cells have a significant advantage as they can be stored for long lengths of time.
They have close homology to humans, so its likely that gene expression is similar to that of humans.
Their genome is relatively the same size as humans.
Other major advantages include that the mouse has a large mammalian offspring, is diploid, easily manipulated to inactivate the gene of interest, a short mammalian lifetime in order to study the effects of a gene knockout through development and aging till death.[10]
It is a valuable approach used to study human homolog genes as human knockouts would be difficult and unethical.

Disadvantages
They can be unrepresentative to discover the function of a particular gene. [11]
The inactivation of the gene in mice embryos is lethal to around 15% of developing embryos and this restricts the amount of knockout mice that can be observed.
Sometimes the mice may indicate no behavioural or distinguishable alterations in characteristics or vice versa it may display a host of phenotypical differences. However, these may not be expressed in humans who lack the same or a similar homolog of the gene.
P53 gene is an example of where knockout mice are unrepresentative. The mice develop tumours in many different tissues where as humans develop tumours in a particular set of tissues.[12]

The Knockout Mouse Project
Projects have been set up to help uncover the function of each gene within the mouse genome. The Knockout mouse project (KOMP), established by trans - National Institute of Health, is a worldwide collaboration to produce a beneficial scientific resource for study of gene function, human disease and for targeting drug developmental therapies. It began in 2006, completion of phase 1 of the project resulted in over 14,000 gene knockouts in ES cells from mice. Phase 2 of the project involves the specific phenotyping for each gene, where they hope to have produced and phenotyped 5,000 knockout mice by 2016. There aims are to produce a worldwide resource of knockout mice and a database for gene function. [13]
More on KOMP and KOMP2 can be found by following the link: http://research.jax.org/komp/

For examples of how knockout mice have been used to help uncover particular genes in human diseases or provide essential therapeutics follow the links below:
References