Light microscope
From The School of Biomedical Sciences Wiki
(Difference between revisions)
 

Line 3:
Line 3:
 

The light microscope uses light energy to see small objects on a slide through an eyepiece. The direction of light upon to the slide, focused by lenses, magnifies the size of the objects to the viewer<ref>http://www.ruf.rice.edu/~bioslabs/methods/microscopy/microscopy.html</ref>.  

 

The light microscope uses light energy to see small objects on a slide through an eyepiece. The direction of light upon to the slide, focused by lenses, magnifies the size of the objects to the viewer<ref>http://www.ruf.rice.edu/~bioslabs/methods/microscopy/microscopy.html</ref>.  

 
 
−

=== Advantages ===

+

=== Advantages ===

 
 
 

*Inexpensive to buy and operate  

 

*Inexpensive to buy and operate  

−

*Relatively small

+

*Relatively small  

−

*Both living and dead specimens can be viewed

+

*Both living and dead specimens can be viewed  

 

*Little expertise is required in order to set up and use the microscope  

 

*Little expertise is required in order to set up and use the microscope  

−

*The original colour of the specimen can be viewed  

+

*The original colour of the specimen can be viewed

 
 
 

=== Disadvantages  ===

 

=== Disadvantages  ===

Line 16:
Line 16:
 

*Specimen may be disfigured during preparation to be viewed under the microscope  

 

*Specimen may be disfigured during preparation to be viewed under the microscope  

 

*The resolving power is 1 nm for biological specimens  

 

*The resolving power is 1 nm for biological specimens  

−

*Only has a resolution of 0.2&nbsp;μm - which is relatively poor in comparison to other microscopes<sup>[2]</sup>.

+

*Only has a resolution of 0.2&nbsp;μm - which is relatively poor in comparison to other microscopes<></>.

 
 
 

=== References  ===

 

=== References  ===

 
 
−

<references />  

+

<references />

−

 

+
−

2. Alberts B, Johnson A, Lewis J, Morgan D, Raff M, Roberts K, Walter P. Molecular Biology of the Cell. Sixth Edition, Garland Science, Taylor and Francis group, LLC and Informa business. 2014. Page 530

+
---
Latest revision as of 09:31, 10 December 2018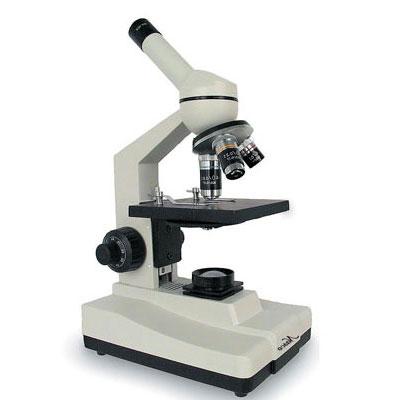 The light microscope uses light energy to see small objects on a slide through an eyepiece. The direction of light upon to the slide, focused by lenses, magnifies the size of the objects to the viewer[1].
Advantages
Inexpensive to buy and operate
Relatively small
Both living and dead specimens can be viewed
Little expertise is required in order to set up and use the microscope
The original colour of the specimen can be viewed
Disadvantages
Maximum magnification of 1500x
Specimen may be disfigured during preparation to be viewed under the microscope
The resolving power is 1 nm for biological specimens
Only has a resolution of 0.2 μm - which is relatively poor in comparison to other microscopes[2].
References
↑ Alberts B, Johnson A, Lewis J, Morgan D, Raff M, Roberts K, Walter P. Molecular Biology of the Cell. Sixth Edition, Garland Science, Taylor and Francis group, LLC and Informa business. 2014. Page 530