Mus musculus
From The School of Biomedical Sciences Wiki
(Difference between revisions)
Line 1:
Line 1:
−

[[Image:Mouse.jpg|thumb|right|Mouse.jpg]]  

+

[[Image:Mouse.jpg|thumb|right]]  

 
 
−

''Mus musculus'' is the scientific name for a mouse.''&nbsp;Mus musculus''&nbsp;are commonly used as [[Model organisms|model organisms]] in research labs, as compared to other model organisms, the mouse is the closest relative to humans and therefore opens many possibilities to studying things such as human diseases&nbsp;<ref>Web page (2004) The wellcome Trust: The Human Genome fckLR'Model organisms: The mouse' By Richard Twyman fckLRfckLRhttp://genome.wellcome.ac.uk/doc_wtd020804.html last assessed: 25/11/2014</ref>.

+

''Mus musculus'' is the scientific name for a mouse.''&nbsp;&nbsp;are commonly used[[Model organisms|model organisms]] in research labs, as to the the to humansand to such as &nbsp;<>

 
 
−

The ''Mus musculus'' [[Genome|genome]] was sequenced in 2002 and it was found that many of their [[Gene|genes]] have a human counterpart, which can be experimented with, creating [[Mutations|mutations]] in mice which mirror human diseases&nbsp;<ref>Web Page: The wellcome Trust: The Human Genome 'Why the mouse?' http://genome.wellcome.ac.uk/doc_WTD023552.html last assessed: 25/11/2014</ref>&nbsp;Mice have also been used often in research to create '[[Transgenic Organism|transgenic mouse]]' by inserting foreign [[DNA|DNA]] into mice embryo's&nbsp;<ref>Web Page: The wellcome Trust: The Human Genome 'Why the mouse?' http://genome.wellcome.ac.uk/doc_WTD023552.html last assessed: 25/11/2014</ref>. &nbsp;  

+

''Mus musculus'' [[Genome|genome]] was sequenced in 2002 and it was found that many of their [[Gene|genes]] have a human counterpart, which can be experimented with, creating [[Mutations|mutations]] in mice which mirror human diseases&nbsp;<ref>Web Page: The wellcome Trust: The Human Genome 'Why the mouse?' http://genome.wellcome.ac.uk/doc_WTD023552.html last assessed: 25/11/2014</ref>&nbsp;Mice have also been used often in research to create '[[Transgenic Organism|transgenic mouse]]' by inserting foreign [[DNA|DNA]] into mice embryo's&nbsp;<ref>Web Page: The wellcome Trust: The Human Genome 'Why the mouse?' http://genome.wellcome.ac.uk/doc_WTD023552.html last assessed: 25/11/2014</ref>. &nbsp;

 
 
−

Other advantages of mice as a model include: short generation times, fast life span (compared to humans), readily available, generally easy to maintain, allows manageable costs,space and time to be used&nbsp;<ref>Web Page: The Jackson Laboratory fckLR'Advantages of the mouse as a model organism'http://research.jax.org/mousegenetics/advantages/advantages-of-mouse.htmlfckLRlast assessed: 25/11/2014</ref>.

+

a short life and of a model organism. <>

 
 
−

=== References ===

+

=References

 
 
−

<references />

+

<references />
---
Revision as of 13:44, 5 December 2017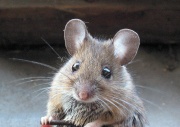 Mus musculus is the scientific name for a mouse. Mice are the most commonly used model organisms in research labs, as mice have very similar physiologies to humans and therefore the impact of human diseases and drugs can be tested in mice and the findings applied to humans. For example, mice have been used as disease models for Down's Syndrome and Cystic Fibrosis and they are prone to similar illnesses as humans are, such as obesity and drug addictions, therefore these can be studied in them. 

Furthermore, the Mus musculus genome was sequenced in 2002 and it was found that many of their genes have a human counterpart, which can be experimented with, creating mutations in mice which mirror human diseases [1] Mice have also been used often in research to create 'transgenic mouse' by inserting foreign DNA into mice embryo's [2].  
Mice have a short life cycle of 2months and they produce 6-15 offspring in each litter. This short life cycle and large number of offspring produced each litter makes mice a good model organism.

References
↑ Web Page: The wellcome Trust: The Human Genome 'Why the mouse?' http://genome.wellcome.ac.uk/doc_WTD023552.html last assessed: 25/11/2014
↑ Web Page: The wellcome Trust: The Human Genome 'Why the mouse?' http://genome.wellcome.ac.uk/doc_WTD023552.html last assessed: 25/11/2014
National Human Genome Research Institute. Background on Mouse as a Model Organism. 2002 [cited 5.12.17] Available from: 
https://www.genome.gov/10005834/background-on-mouse-as-a-model-organism/&nbsp
;