Peptidase
From The School of Biomedical Sciences Wiki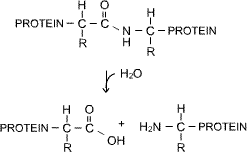 Peptidase is also known as
protease
or proteinase. They are produced in the
stomach
,
small intestine
and
pancreas
[1]
and are responsible for the cleavage of
peptide bonds
between
amino acids
via
hydrolysis
reactions, as shown in figure 1
[2]
.
Thus, they have roles in the breakdown of proteins within the body. For example, peptidases in the digestive tract break down proteins entering the body from our food, thereby releasing their constituent amino acids allowing them to be used in different processes[3].
References
↑ http://www.bbc.co.uk/schools/gcsebitesize/science/add_aqa_pre_2011/enzymes/enzymes_and_digestion2.shtml