Sarcomere
From The School of Biomedical Sciences Wiki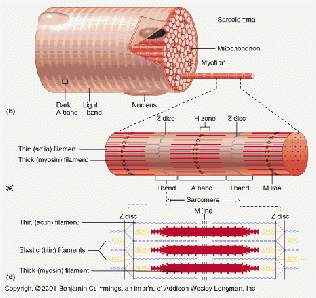 Sarcomeres are the repeating units in a myofibril, around 2.2 µm in length, responsible for muslce contraction and the characteristic stripes seen in the myofibril in a low-magnification electron micrography [1].

A sarcomere unit is composed of thin and thick filaments, partly overlapping one another.The thin filaments are made up of actin filaments and filaments of tropomyosin surrounding the double helix of the former. Each actin molecule has a myosin binding site, which is blocked by the T and I subunits in the protein troponin, but in the case when Ca2+ is present the C subunit in the troponin is being activated and uncovers the myosin binding site. The thin filaments are held together at their plus ends by Z discs, that serve as a separation line between two sarcomeres and prevent depolymerisation at the same time. Parts of a sarcomere containing only thin filaments, held togerther by Z lines, are called I bands [2].

The motor protein myosin ll is what the thick filaments in a sarcomere are comprised of. They are situated in the middle of the sarcomere with the M line holding them together and slightly overlapping the thin ones due to the action of a protein called titin [3].The parts where thick filaments are present in their full length are called A bands, while the H zone contains only the area of the non-overlapping parts of the thick filaments [4].

An important fact to be mentioned is that muscle contraction is not generated by the shortening of either the thin or the thick filaments, but by the shortening of the whole sarcomere unit, caused by the change in the degree of overlapping by the two types of filaments [5], when a stimulus is applied, the so called Sliding Filament Theory. As a result , there is no change in the lenght of the A band, but in the length of I bands and H zones as they consist of overlapping parts.

References