The Sliding Filament Theory
From The School of Biomedical Sciences Wiki
(Difference between revisions)
m

Line 7:
Line 7:
 

Figure taken from  http://www.ncbi.nlm.nih.gov/books/NBK9961/  

 

Figure taken from  http://www.ncbi.nlm.nih.gov/books/NBK9961/  

 
 
−

=== <br><u></u> Sliding mechanism &nbsp;  ===

+

=== <br><u></u>Sliding mechanism &nbsp;  ===

 
 
−

As a result of depolarisation of [[T-tubules|T-tubule]] membrane caused by [[Acetylcholine|acetylcholine]] binding to receptor on the motor end plate&nbsp;Ca<sup>2+</sup>&nbsp;[[ions|ions]] are released into the cytosol<ref>B. Alberts, Molecular Biology if the Cell, Garland Science, 5th Edition ,2008</ref>. Then they bind to one of the accessory [[Protein|proteins]] [[Troponin|troponin]].<ref>B.Alberts, Molecular Biology of the Cell, Garland Science, 5th edition, 2008</ref>&nbsp;Troponin is a composed of 3 polypeptides ([[troponin T|troponin T]], [[troponin I|troponin I]] and [[troponin C|troponin C]]). When the muscle is at rest troponin is bound to actin in such a way that troponin I and troponin T pull the other accessory protein [[Tropomyosin|tropomyosin]] out of its place so it blocks the [[Myosin|myosin]] binding site on the [[Actin|actin]]. During contraction 4 Ca<sup>2+</sup> ions bind to the troponin C subunit forcing the troponin I to release its hold of actin thus allowing the tropomiosin to move back to its place and open the myosin binding site so the muscle can contract by binding of myosin heads to actin and then twisting to make the [[Sarcomere|sarcomere]] shorter.<ref>B. Alberts, Molecular Biology of the Cell, Garland Science, 5th edition , 2008</ref>

+

As a result of depolarisation of [[T-tubules|T-tubule]] membrane caused by [[Acetylcholine|acetylcholine]] binding to receptor on the motor end plate&nbsp;Ca<sup>2+</sup>&nbsp;[[|ions]] are released into the cytosol<ref>B. Alberts, Molecular Biology if the Cell, Garland Science, 5th Edition ,2008</ref>. Then they bind to one of the accessory [[Protein|proteins]] [[Troponin|troponin]]<ref>B.Alberts, Molecular Biology of the Cell, Garland Science, 5th edition, 2008</ref>Troponin is a composed of 3 polypeptides ([[T|troponin T]], [[I|troponin I]] and [[C|troponin C]]). When the muscle is at rest troponin is bound to actin in such a way that troponin I and troponin T pull the other accessory protein [[Tropomyosin|tropomyosin]] out of its place so it blocks the [[Myosin|myosin]] binding site on the [[Actin|actin]]. During contraction 4 Ca<sup>2+</sup> ions bind to the troponin C subunit forcing the troponin I to release its hold of actin thus allowing the tropomiosin to move back to its place and open the myosin binding site so the muscle can contract by binding of myosin heads to actin and then twisting to make the [[Sarcomere|sarcomere]] shorter<ref>B. Alberts, Molecular Biology of the Cell, Garland Science, 5th edition , 2008</ref>

 
 
 

=== References  ===

 

=== References  ===

 
 
 

<references />

 

<references />
---
Revision as of 11:53, 17 November 2017
The sliding of myosin and actin filaments causes muscles to contract. There are many forms of muscle contraction including contraction of the skeletal muscle, the heart and gut peristalsis[1] all of which require the well regulated movement of the ATP-dependent sliding filaments. Each sarcomere is made up of a highly organised sequence of thick and thin filaments. The thin filaments are mainly made up of actin along with associated proteins [2]. These filaments are all attached by their ends to a structure called a Z disc, the other end reaches parallel into the structure overlapping the thick filaments which are made up of myosin, each filament is evenly spaced between the other[3]. Sarcomere shortening is not caused by the contraction or shortening of the actual filaments but by the sliding of the myosin filaments past the actin filaments[4].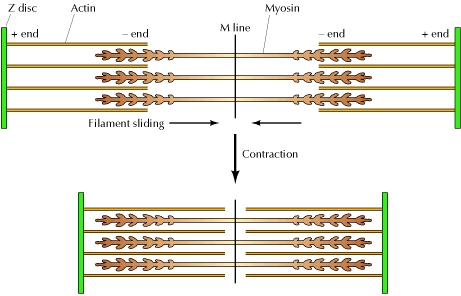 Figure taken from  http://www.ncbi.nlm.nih.gov/books/NBK9961/

Sliding mechanism  
As a result of depolarisation of T-tubule membrane caused by acetylcholine binding to receptor on the motor end plate Ca2+ ions are released into the cytosol[5]. Then they bind to one of the accessory proteins troponin[6].Troponin is a composed of 3 polypeptides (troponin T, troponin I and troponin C). When the muscle is at rest troponin is bound to actin in such a way that troponin I and troponin T pull the other accessory protein tropomyosin out of its place so it blocks the myosin binding site on the actin. During contraction 4 Ca2+ ions bind to the troponin C subunit forcing the troponin I to release its hold of actin thus allowing the tropomiosin to move back to its place and open the myosin binding site so the muscle can contract by binding of myosin heads to actin and then twisting to make the sarcomere shorter[7].
References