Transduction
From The School of Biomedical Sciences Wiki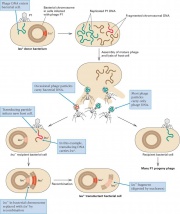 Transduction is  process in which a nonviral genetic material, 
DNA
is transferred from one bacterial cell to another via a transducing
phage
. It is a method that genetic material is transferred between the cell of donating
DNA
 and the cell receiving DNA  without any phisical contact . This method of
[1]
 is often used by microbiologist as numerous copies of desired gene can be obtain from a single bacterium cell . 
The generalised process by which this is done is a transducing phage lands on the surface of a bacterium and injects the phage into the bacterium. The infects the bacterium and causes the chromosome to fragment and the phage DNA can be replicated many times and packaged into phages creating mature transducing phages. Lysis of the cell occurs and the transducing phages are released, and can then go on to attach to other host cells [2].In summary , phage works by hijacking bacterium cell , utilize host metabolites, producing copies of phage with donor DNA and reproduce via lytic or [3]

References
↑ ADMIN. (2013). EVERYTHING ABOUT BACTERIOPHAGE. Available: http://phages.org/. Last accessed 24th Nov 2014.
↑ Hartl D. and Ruvolo M., (2012), Genetics: Analysis of Genes & Genomes, 8th edition, Jones and Bartlett Publishers, Chapter 9.
↑ Panse,S. (2010). DIFFERENCES BETWEEN LYTIC AND LYSOGENIC CYCLES : HOW VIRAL INFECTIONS SPREAD. Available: http://www.brighthub.com/science/genetics/articles/30611.aspx. Last accessed 23rd Nov 2014.