Uracil
From The School of Biomedical Sciences Wiki
(Difference between revisions)
Line 1:
Line 1:
−

Uracil (U) is a [[Pyrimidine|pyrimidine]] base.&nbsp;It is&nbsp;one of the four bases found in [[RNA|RNA]]&nbsp;where it replaces [[Thymine|Thymine]] (T) which&nbsp;is found in [[DNA|DNA]].&nbsp;The structure of uracil differs from&nbsp;thymine in that thymine contains an extra methyl group on the 5-C&nbsp;carbon atom whereas uracil just has a hydrogen&nbsp;atom. However, the base-pairing&nbsp;is unaffected by the lack of this methyl group, therefore the U-A base pairs are very similar to T-A base pairs. E.g. there are 2 hydrogen&nbsp;bonds formed between the bases.<ref>Alberts, B et al. (2008). Molecular Biology of the Cell. 5th ed. US: Garland Science. page 303</ref>&nbsp;<ref>Berg, J.M. Tymoczko, J.L. Stryer, L. (2007). Biochemistry. 6th ed. New York: W.H. Freeman and Company. p109.</ref>.[[Image:0192801015 uracil 1.jpg|thumb|0192801015 uracil 1.jpg]]  

+

Uracil (U) is a [[Pyrimidine|pyrimidine]] base.&nbsp;It is&nbsp;one of the four bases found in [[RNA|RNA]]&nbsp;where it replaces [[Thymine|Thymine]] (T) which&nbsp;is found in [[DNA|DNA]].&nbsp;The structure of uracil differs from&nbsp;thymine in that thymine contains an extra methyl group on the 5-C&nbsp;carbon atom whereas uracil just has a hydrogen&nbsp;atom. However, the base-pairing&nbsp;is unaffected by the lack of this methyl group, therefore the U-A base pairs are very similar to T-A base pairs.<ref>Alberts, B et al. (2008). Molecular Biology of the Cell. 5th ed. US: Garland Science. page 303</ref> &nbsp;<ref>Berg, J.M. Tymoczko, J.L. Stryer, L. (2007). Biochemistry. 6th ed. New York: W.H. Freeman and Company. p109.</ref>.[[Image:0192801015 uracil 1.jpg|thumb]]  

 
 
 

=== References  ===

 

=== References  ===

 
 
 

<references />

 

<references />
---
Revision as of 00:16, 21 November 2012
Uracil (U) is a
pyrimidine
base. It is one of the four bases found in
RNA
 where it replaces
Thymine
(T) which is found in
DNA
. The structure of uracil differs from thymine in that thymine contains an extra methyl group on the 5-C carbon atom whereas uracil just has a hydrogen atom. However, the base-pairing is unaffected by the lack of this methyl group, therefore the U-A base pairs are very similar to T-A base pairs.
[1]
E.g. there are 2 hydrogen bonds formed between the bases. 
[2]
.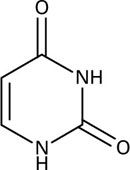 References
↑ Alberts, B et al. (2008). Molecular Biology of the Cell. 5th ed. US: Garland Science. page 303
↑ Berg, J.M. Tymoczko, J.L. Stryer, L. (2007). Biochemistry. 6th ed. New York: W.H. Freeman and Company. p109.