Veins
From The School of Biomedical Sciences Wiki
(Difference between revisions)
Line 3:
Line 3:
 

=== The structure of Veins  ===

 

=== The structure of Veins  ===

 
 
−

Veins are made of thin walls of [[smooth muscle|smooth muscle]], and [[endothelial tissue|endothelial tissue]]<ref>https://www.mananatomy.com/basic-anatomy/veins 28/10/2017</ref>. They also contain valves, which assist in moving blood at low pressure against the force of gravity back to the heart, in order to be recirculated through the lungs<ref>https://www.mananatomy.com/basic-anatomy/veins, 28/10/2017</ref>.  

+

Veins are made of thin walls of [[muscle|smooth muscle]], and [[tissue|endothelial tissue]]<ref>https://www.mananatomy.com/basic-anatomy/veins 28/10/2017</ref>. They also contain valves, which assist in moving blood at low pressure against the force of gravity back to the heart, in order to be recirculated through the lungs<ref>https://www.mananatomy.com/basic-anatomy/veins, 28/10/2017</ref>.

 
 
 

=== References  ===

 

=== References  ===

 
 
 

<references />

 

<references />
---
Revision as of 00:17, 6 December 2017
Veins are blood vessels which carry deoxygenated blood from body tissues back to the heart and lungs. In the lungs, the deoxygenated blood is reoxygenated through gaseous exchange in the alveoli.
The structure of Veins
Veins are made of thin walls of smooth muscle, and endothelial tissue[1]. They also contain valves, which assist in moving blood at low pressure against the force of gravity back to the heart, in order to be recirculated through the lungs[2].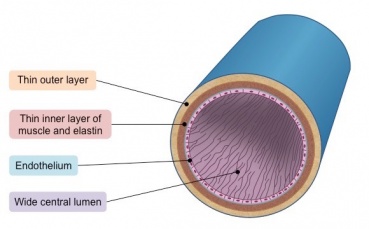 References
↑ https://www.mananatomy.com/basic-anatomy/veins 28/10/2017
↑ https://www.mananatomy.com/basic-anatomy/veins, 28/10/2017