Watson-Crick base pairs
From The School of Biomedical Sciences Wiki
(Difference between revisions)
Line 1:
Line 1:
−

Watson-Crick base pairs is a specific complementary base pairs that base A is always paired with base T while base G is always paired with base C.&nbsp;<span style="line-height: 1.5em;">These base pairs were introduced by </span>[[James Watson|James Watson]]<span style="line-height: 1.5em;"> and </span>[[Francis Crick|Francis Crick]]<span style="line-height: 1.5em;">. In Watson-Crick base pairs, t</span><span style="line-height: 1.5em;">he number of </span>[[Hydrogen bonds|hydrogen bonds]]<span style="line-height: 1.5em;"> formed between A and T are 2 while there are 3 formed between base G and C.&nbsp;<ref>Berg, J, Stryer,L ,Tymoczko J,2012, Biochemistry, 7th edition. W. H. Freeman and Company, New York. Pg. 114</ref>&nbsp;[[Cytosine|Cytosine]] and [[Thymine|Thymine]] are pyrimidine compounds and [[Guanine|Guanine]] and [[Adenine|Adenine]] are purine compounds. The purine compunds are larger than the pyrimidines as the 6-membered ring has an extra 5-membered ring fused to it.&nbsp;<ref>Alberts et al. Molecular biology of the cell, fifth edition, 2007. Page 61</ref></span>

+

Watson-Crick base pairs is a specific complementary base pairs that base A is always paired with base T while base G is always paired with base C.&nbsp;<span style="line-height: 1.5em;">These base pairs were introduced by </span>[[James Watson|James Watson]]<span style="line-height: 1.5em;"> and </span>[[Francis Crick|Francis Crick]]<span style="line-height: 1.5em;">. In Watson-Crick base pairs, t</span><span style="line-height: 1.5em;">he number of </span>[[Hydrogen bonds|hydrogen bonds]]<span style="line-height: 1.5em;"> formed between A and T are 2 while there are 3 formed between base G and C.&nbsp;<ref>Berg, J, Stryer,L ,Tymoczko J,2012, Biochemistry, 7th edition. W. H. Freeman and Company, New York. Pg. 114</ref>&nbsp;[[Cytosine|Cytosine]] and [[Thymine|Thymine]] are pyrimidine compounds and [[Guanine|Guanine]] and [[Adenine|Adenine]] are purine compounds. The purine compunds are larger than the pyrimidines as the 6-membered ring has an extra 5-membered ring fused to it.&nbsp;<ref>Alberts et al. Molecular biology of the cell, fifth edition, 2007. Page 61</ref></span>  

−

 

+
−

[[Image:Watson-Crick Base Pairs.PNG]]<ref>Berg, J, Stryer,L ,Tymoczko J,2012, Biochemistry, 7th edition. W. H. Freeman and Company, New York. Pg. 114, Figure 4.12.</ref>

+
−

 

+
−

<br>  

+
 
 
 

=== References  ===

 

=== References  ===

 
 
 

<references />

 

<references />
---
Revision as of 01:25, 28 November 2014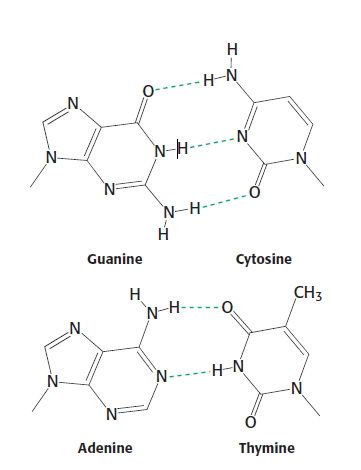 [1]
Watson-Crick base pairs is a specific complementary base pairs that base A is always paired with base T while base G is always paired with base C. 
These base pairs were introduced by
James Watson
and
Francis Crick
. In Watson-Crick base pairs, t
he number of
hydrogen bonds
formed between A and T are 2 while there are 3 formed between base G and C. [2] Cytosine and Thymine are pyrimidine compounds and Guanine and Adenine are purine compounds. The purine compunds are larger than the pyrimidines as the 6-membered ring has an extra 5-membered ring fused to it. [3]
References
↑ Berg, J, Stryer,L ,Tymoczko J,2012, Biochemistry, 7th edition. W. H. Freeman and Company, New York. Pg. 114, Figure 4.12.
↑ Berg, J, Stryer,L ,Tymoczko J,2012, Biochemistry, 7th edition. W. H. Freeman and Company, New York. Pg. 114
↑ Alberts et al. Molecular biology of the cell, fifth edition, 2007. Page 61