Gram-negative
From The School of Biomedical Sciences Wiki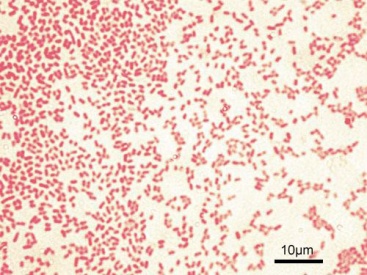 The gram-negative
bacterial
cell walls
are one of the two types of bacterial cell walls which can be identified by
the Gram stain test
. After the Gram stain test Gram-negative bacteria appear red or pink when observed under the
microscope
 as they do not retain the
crystal violet dye
after rinsing and red safranin dye enters the cell wall when counterstaining all due to thin
peptidoglycan
layer.
Gram-negative bacteria include Haemophilus influenzae, Escherichia coli[1] and other bacteria.
Cell wall structure of the Gram-negative bacteria
The cell envelope of Gram-negative bacteria contains two membranes (outer membrane and inner (cell) membrane). In-between these membranes lies a thin peptidoglycan layer and the aqueous periplasm where various nutrient-transporting enzymes and transporters are found. The outer membrane of Gram-negative cell walls is porous to ions, contains toxic lipid parts of lipopolysaccharides[2] and has defensive properties[3].
Characteristics
Two membranes (inner and outer) in the cell envelope
A thin layer of peptidoglycan in-between the two membranes

Porin protein

s in the outer membrane limiting the size of molecules entering the cell
Do not retain crystal violet dye after the Gram stain test
Infections caused by Gram-negative bacteria and treatment implications
Gram-negative bacteria cause such infections as pneumonia and septicaemia[4]. Gram-negative bacterial cell walls are more complex than Gram-positive bacterial cell walls as the former possess two membranes and their outer membrane contains porin proteins that limit the size of molecules entering the cell, therefore, preventing large quantities of antibiotics from entering the cell wall where they would take effect[5]. As many antibiotics inhibit enzymes important in the assembly of peptidoglycan layer which in Gram-negative bacteria lies between two membranes, many antibiotics that are effective against Gram-positive bacteria are ineffective against Gram-negative bacteria as they cannot go through the outer membrane and access the peptidoglycan layer inside the cell envelope[6].

References