G2 phase
From The School of Biomedical Sciences Wiki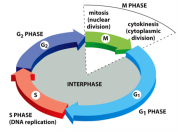 The
eukaryotic cell cycle
occurs in 4 phases: the
M phase
, the G1 phase, the
S phase and
the G2 phase.
The G1 and G2 phases are referred to as 'gap' phases - their jobs are to monitor the cell between its major phases and ensure that it is fit to move into the next respective phase; either the S phase (DNA replication) or the M phase (mitosis), respectively. They are often known as 'checkpoints' as it is during these periods that both the cell's internal and external environments are checked and monitored[1]. This monitoring involves ensuring the cell is suitable to progress through the cell cycleor whether it needs a little more time to prepare.
The G2 phase occurs between the S phase and the M phase. It is a crucial stage as it ensures the S phase has been carried out correctly and prepares the cell for mitosis. This preparation involves making sure the DNA is intact and checking chromosome duplication has occurred, without which the M phase cannot proceed. Any found errors (such as damaged DNA) can then be corrected and repaired by the cell during the G2 phase.
References
↑ Delete Alberts, Bray, Hopkin, Johnson, Lewis, Raff, Roberts, Walter (2014) Essential Cell Biology, 4th edn., New York: Garland Science, Taylor & Francis Group.