Nerve cells
From The School of Biomedical Sciences Wiki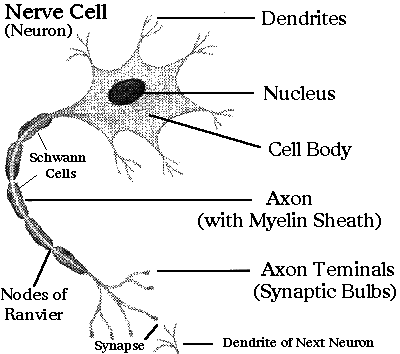 Nerve cells are
neurones
. There are 3 types of neurones:
sensory - carries impulses from the receptor to the spinal cord
motor - carries the impulse to the effector (muscle or gland)
relay - the sensory and the motor neuron
Communication via the nervous system is rapid and localised, however may be short lived if stimulus is not continuous[1].
Neurons can be categorzied into functionally different types. this can be based partly on their propensity to fire action potentials.Some neurones have a greater frequency of generating action potentials than others. Often the firing properties of a neuron depend on the ion channels that the nerve cell express. The number of ion channels in a neuron's membrane is not fixed. If the conditons change, the number of hyperpolarising channels (K+) or depolarising channels (Na+ or Ca2+) can change. This is an example of homeostatic control[2]. 

Dendrites are the extentions of the nerve cell, they recieve stimuli from other cells[3]. Action poteintials can be generated anywhere along the axon or at the axon hillock. Whereas graded poteintials can be generated at the dendrites, cell body or the axon termianl. Graded potentials cannot be generated along the axon or at the axon hillock[4].
The K+ leak channel and the Na+ maintain the resting membrane potentil along the axon of nerve cells[5].   
A presynaptic neurone is one from the axon terminal. A postsynaptic neurone is to the cell body or to the dendrite[6]

References