Ras Guanine Nucleotide Exchange factor
From The School of Biomedical Sciences Wiki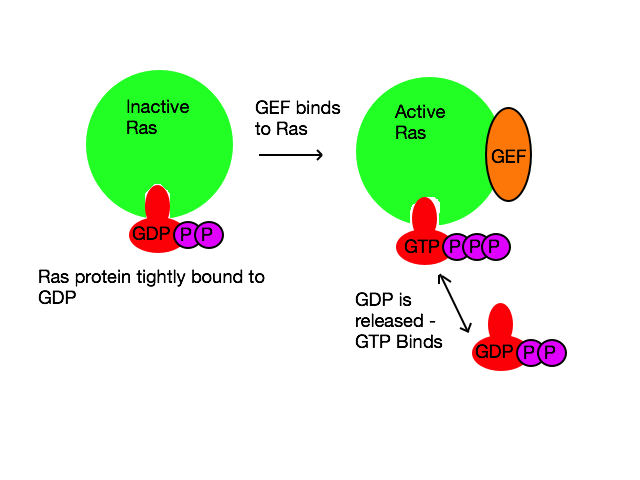 Guanine Nucleotide Exchange Factors (GEFs) are proteins that activate small monomeric GTPases, otherwise known as monomeric G-proteins. For example the Ras protein is one such GTPase. The process of activation of the Ras protein begins when extracellularsignaling molecules, such as growth factors, bind to receptors on the phospholipid membrane[1].
In its inactive state, the Ras protein is strongly bound to guanosine diphosphate (GDP); Ras needs to be bound to guanosine triphosphate (GTP) in order to be activated, so that it can unleash its phosphorylation cascade, activating its target protein(s). Due to this tight binding of GDP to the Ras protein, activation would be a painfully slow process without the presence of the GEF protein to allow much easier release of GDP[2].
Activation of the Ras protein is facilitated by the GEF, which binds to the inactive Ras-GDP complex and causes a conformational change. This change in the structure of the protein causes it to release GDP. The active site of the Ras protein is now free, but because of the greater abundance of GTP in the cell compared to GDP, GTP will bind to the active site and activate the Ras protein[3].
The GEF that allows this quicker transfer of GDP to GTP in the Ras protein was first studied in eye development of Drosophila[4].
References